---
Cannabis in Pregnancy
The active chemical compounds found in cannabis are rapidly absorbed and readily cross the placenta. Although not fully understood, there are many potential risks of using cannabis in pregnancy, including miscarriage, early birth, and having a baby that is smaller than usual for the number of weeks of pregnancy. The Society of Obstetricians and Gynaecologists of Canada (SOGC) recommends that pregnant individuals avoid using cannabis products during pregnancy and breastfeeding.
---
Data Spotlight: Cannabis Use in Pregnancy in Ontario 2012-2018
At BORN, we examined data from all pregnant individuals carrying one fetus (as opposed to twins or triplets etc.) who gave birth in a hospital between fiscal year 2012/13 and 2017/18 for self-reported use of cannabis in pregnancy. We examined demographic, socioeconomic, and regional factors that may be associated with cannabis use. The total sample size was 710,911.
Selected Trends
---
Figure 1 is a line graph showing self-reported cannabis use rates among pregnant individuals by age group between 2012 and 2018. The highest rates of use are among the ages of 15-19 years, and in each age range, the rate of use increases over time. You can also view the data in table format.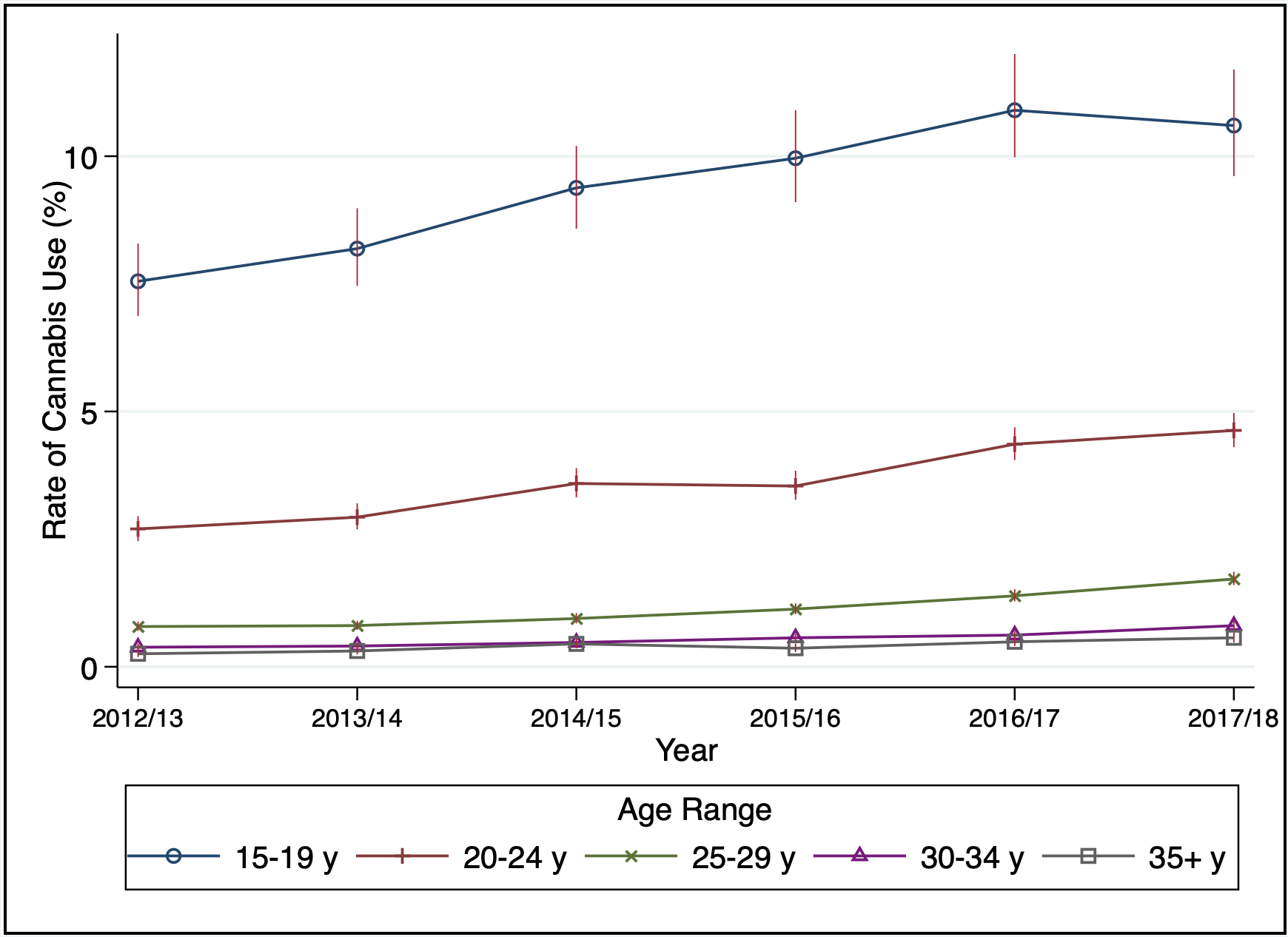 ---
Why does it Matter?
Now that cannabis is legal and more widely available, the acceptance and use of cannabis appear to be increasing. New and expectant parents may choose to use cannabis for therapeutic purposes or recreationally. Some pregnant individuals may begin using cannabis to treat pregnancy-related symptoms, like nausea.
Our research using BORN data showed a 10.2 percent risk of preterm birth among reported cannabis users compared to a 7.2 percent risk in non-users with similar risk factors.
Registered users also had a 19.3 percent risk of their baby needing neonatal intensive care unit, compared to 13.8 percent for non-users with the same risk factors.
Take-Home Message
If you're curious about using cannabis in pregnancy, your best option is to talk to your doctor, midwife, or care provider. It's safest to avoid cannabis products during pregnancy and while breastfeeding until we know more. BORN will continue to monitor the data and share trends. Check out OMama for more information about cannabis and pregnancy.