Vaginal Birth After Cesarean
Catherine's Story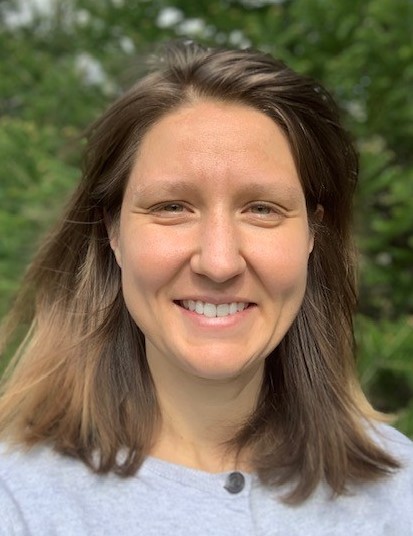 Catherine Lombardo's daughter, Frances, was born via cesarean section in November, 2016. Although Catherine's labour started off relatively normally, it didn't progress well and complications arose. She developed a high fever, necessitating antibiotics, and the fetal heart rate was abnormal. Her care providers (midwife and obstetrician) recommended a cesarean section.
Read More of Catherine's Story...
Although Catherine had hoped for a vaginal birth, she understood and agreed with the rationale for the cesarean section. She had a very good relationship with her care providers and was involved in all decision-making and discussions: "I never felt rushed, everyone was very communicative with me. I was able to advocate for myself."
The baby experienced tachypnea at birth – rapid, shallow breathing – and was sent to the Neonatal Intensive Care Unit (NICU). Concerned about infection, the NICU Team administered antibiotics. After two days in the NICU, the Lombardo's were able to take their baby home. For Catherine, seeing her baby in the NICU was difficult: "She wasn't in the hospital very long - 2 nights - but it felt really LONG."
The postpartum period was harder than Catherine expected as well – she had to manage recovering from her cesarean section, disappointment with not having the birth experience she'd hoped for, and the exhaustion that comes with becoming a new mother. "Coming home from that birth experience was a reality check. You understand the possibility that things don't always go according to plan, but you hope that it will be different for you."
Three years later, Catherine was happy to be expecting her second baby. She hoped for a vaginal birth, but was cautiously optimistic.
"While I carried the story and hardship of my first birth experience, I was still hoping to have a VBAC. There was no indication that I was unhealthy or unfit to have a VBAC… I knew I was a good candidate."
Catherine and her midwife discussed the risks and benefits of vaginal birth after cesarean (VBAC) as well as Catherine's personal thoughts and values. Catherine appreciated the candid conversations she had with her care providers and how they respected her autonomy:
"The most important thing is understanding the information and being supported to make a decision based on your own level of acceptable risk and what you value for your family."
The midwife arranged consults with Catherine's physician and the anesthetist who had administered the epidural during her first birth. She also reviewed the operative report from Catherine's cesarean section surgery. Everyone felt comfortable with moving forward with a trial of labour after a cesarean section (TOLAC). Catherine says she was very motivated to have a VBAC:
"I wanted to give myself and my baby a chance to have a vaginal delivery, I also wanted that personal feeling of 'my body is able to do this!'"
Catherine's labour with her second child started hard and fast. When she arrived at the hospital, she had a fever and the baby's heartrate was accelerated. She was dismayed at these same problems arising again. Catherine received an epidural and the baby's heart rate stabilized. She laboured all night, but progress was slow. In the morning, Catherine and her care team reviewed several options and decided to augment her labor with oxytocin. As she labored, Catherine was empowered by being involved in every step of the decision-making progress. She was supported and cared for by her midwives and engaged in the decision-making conversations that took place with her midwives and physicians.
After augmentation, her labour progressed well and by mid-afternoon she was able to start pushing. She pushed for an hour with great progress, but the baby's heart rate became irregular again. Understanding the implications of the situation, Catherine agreed with the physicians' recommendation for an assisted vaginal birth (with forceps). After an eventful delivery Baby John was born, weighing in at a hefty 10 pounds! The care team continued to monitor John carefully to make sure he was transitioning well to extra-uterine life.
The next challenge for Baby John was sugar regulation. Being such a big boy, he developed hypoglycemia (low blood sugar) – and was admitted to the NICU. After 5 days in the NICU, his blood glucose levels had normalized and the Lombardo family was able to welcome him home.
Catherine describes feeling elated after John's birth "Oddly enough, even though my second birth experience was still far from 'perfect', I was overjoyed. Despite once again having a longer stay in the NICU, as occurred with my daughter, I was impressed, thankful, and proud that I had a VBAC."
For Catherine and many other women who have a VBAC, the experience engenders a sense of achievement, empowerment, and joy.
---
Integrating the VBAC Quality Standard: BORN's Role
Many individuals who have a baby via cesarean section assume that their only option for their next birth is a repeat cesarean. In reality, most pregnant individuals who have a history including a cesarean birth can safely have a subsequent vaginal birth after cesarean (VBAC).1 Both types of birth - repeat cesarean and VBAC - have their own risks and benefits. Individuals need to be informed of these risks and benefits and engage in shared decision making (with their care provider) to determine the choice that is safest for them and aligns with their own values and preferences.
Having a VBAC usually means less time in hospital and a faster recovery time when compared to cesarean birth. Getting home faster and healing more quickly is good for everyone, but may be especially valuable for individuals with other young children at home.
Compared to a cesarean birth, VBAC offers:
Less blood loss
Less risk of injury and infection
Less risk of breathing difficulties for the baby
Reduced risk of complications for future pregnancies 2

Despite the potential benefits, only 35% of eligible pregnant individuals in Ontario attempted to have a VBAC in fiscal year 2019-2020. This particular year is not an anomaly – it reflects a 5-year trend. Why are 65% of individuals who are eligible for a trial of labour opting for a repeat cesarean? And how can we make sure they understand their options?
Quality Standard
In 2018 Health Quality Ontario (HQO) in partnership with the Provincial Council for Maternal and Child Health (PCMCH) developed a Quality Standard for VBAC.
The primary goals of the quality standard were to improve access to safe VBAC and to promote informed shared decision-making. The standard states that, when deemed appropriate, health-care providers in Ontario should offer a VBAC as part of high-quality, evidence-based care.
The standard also provides indicators to measure success. However, pulling the data to populate the indicators and getting the right denominators can be tricky and time consuming. Many clinicians report not having the time or skills to do this. To address this gap, in March 2021, BORN launched the VBAC Quality Standard Report.
VBAC Quality Standard Report
This report is an easy-to-use summary to help Ontario hospitals monitor their progress around VBAC practices. Rather than doing numerous, complicated, and time-consuming data queries, clinicians and administrators can now log into the BORN Information System, choose a time period, and push a button to see all the relevant indicators they need to assess their performance. They can also compare their rates to those of other similar hospitals and to the Ontario average.
The BIS VBAC Quality Standard Report - includes frequencies and percentages of pregnant individuals who:
Are eligible for a VBAC;
Plan a VBAC;
Have a planned, elective repeat cesarean birth;
Attempt a VBAC ;
Have a successful VBAC;
Experience a uterine rupture,
Additionally, the report includes data regarding infants admitted to NICU and whether they were born to individuals who did or did not attempt a VBAC.
By providing a practical tool, BORN is helping care providers across the province integrate the VBAC Quality Standard into daily care practice; this will ultimately help inform individuals in Ontario about VBAC and allow them to make choices that are consistent with their values and preferences.
Read about one hospital's experience using the VBAC Quality Standard Report...
St. Thomas Elgin General Hospital
By presenting to regional maternal newborn networks in Ontario, BORN increased awareness of the VBAC Quality Standard report. When introducing the report to the Maternal Newborn Child Youth Network (MNCYN), BORN was able demonstrate its utility by populating it with real data from one of the network's hospitals - St. Thomas Elgin General Hospital (STEGH).
Thanks to STEGH's cooperation and commitment to transparency, the group could see the report in action and review the results for STEGH.
The number of pregnant individuals who attempted VBAC at STEGH was higher than comparator hospitals and also higher than the Ontario average. Jackie Mitchell, Manager of Women and Children's Care at STEGH believes these results are linked to several factors: the culture of their patient population; physicians skilled with instrumental delivery; and shared decision making with patients.
Jackie uses clinical reports such as the VBAC Quality Standard Report from the BORN Information System (BIS) on a regular basis and presents results at monthly clinical care team meetings. Prior to the report release, significant effort was required by STEGH to obtain minimal information surrounding VBAC practices. The new report provides more detail about this important patient population and is easy to use. STEGH is a great example of a hospital using high-quality data to monitor progress toward the VBAC Quality Standard and continuously improve patient care.