What is Trisomy 13?
Trisomy 13 (also called Patau syndrome), is a chromosome difference that is caused by an extra copy of chromosome 18. Babies with trisomy 13 have three copies of this chromosome, instead of the typical two copies. This generally happens by chance in the sperm or the egg that made the baby, and does not typically run in families.
What Does Trisomy 13 Mean For a Baby?
Having an extra chromosome 13 disrupts the typical development of the baby in the womb, resulting in a severe, life-limiting condition, affecting many different parts of the body.
Many pregnancies with trisomy 13 do not make it to birth, and result in miscarriage or stillbirth. Babies with trisomy 13 who are born and survive the birth usually have severe intellectual disability and health challenges. Babies can go home to their families, but require substantial caregiving.
A small percentage of babies with trisomy 13 can live past the first year of life.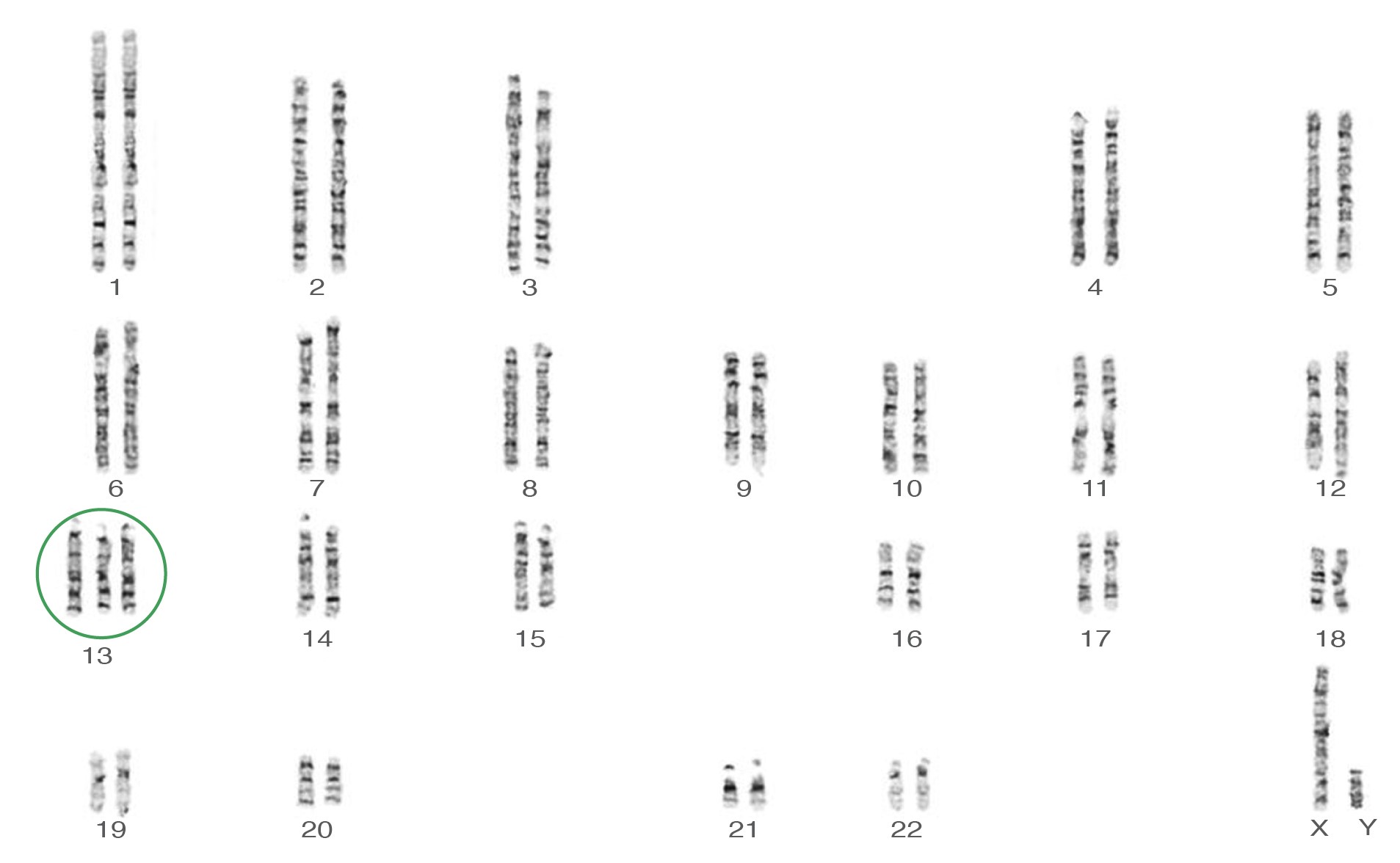 Chromosomes in the cell of a person with trisomy 13
Illustration adapted from Genetic Counseling Aids, 7th Edition, Copyright 2020, permission for use granted by Greenwood Genetic Center
How Often Does Trisomy 13 Happen?
About 1 in 6,000 to 1 in 29,000 babies are born with trisomy 13. Trisomy 13 is more common than that during pregnancy, but many babies with this chromosome difference do not make it to birth. Although trisomy 13 can happen at any age, the chance increases with the age of the pregnant individual.
Can Trisomy 13 Be Detected During Pregnancy?
Prenatal Screening Tests
Trisomy 13 is not screened through enhanced First Trimester Screening (eFTS) or Second Trimester Screening (STS). However, the ultrasound that is part of eFTS may raise the suspicion that the baby has a chromosome difference.
Another screening test, Non-Invasive Prenatal Testing (NIPT), specifically screens for trisomy 13. This test is covered by OHIP in certain situations.
You may be hearing about trisomy 13 because your NIPT results were "high risk" for having a baby with trisomy 13. If this is the case, your health-care provider should discuss your options which may include a referral for genetic counselling.
Ultrasound
The extra chromosome 13 can cause a wide range of problems (sometimes referred to as birth defects) in the developing baby, and these may be seen on one of the ultrasounds that you have in pregnancy. Many babies with trisomy 13 will have concerns on the detailed anatomy ultrasound, which can include:
Brain not developing properly into a right and left side (holoprosencephaly)
Organs in the abdomen developing outside the belly and sticking out through an opening in muscles in the area of the umbilical cord (omphalocele)
Cleft lip and/or palate - incomplete closure of the lip or roof of the mouth during development
Spinal abnormalities
Heart defects
Differences in the development of the hands or feet (e.g. extra fingers or toes)
Kidney abnormalities (e.g. multiple cysts in the kidneys; or abnormal union of the two kidneys at the base )
Birth defects can be caused by many different conditions, not just trisomy 13. If anything significant is seen on ultrasound, you should be offered a referral for genetic counselling to discuss your results further and options for more testing.
Diagnostic Testing
Although the above tests can increase the chance that the baby has trisomy 13, the only way to know for sure is through a diagnostic test. This testing can be during pregnancy (through chorionic villus sampling or amniocentesis), or after birth.
Types of Trisomy 13
Trisomy 13
Most cases of trisomy 13 result from an individual having three copies of chromosome 13 in every cell of their body instead of the usual two copies. This form of trisomy 13 typically happens by chance and is not passed down in the family.
Mosaic trisomy 13
Some individuals with trisomy 13 have an extra copy of chromosome 13 in only some of the body's cells. These individuals have a mixture of cells, some having two copies of chromosome 13 and some having three copies. The impact of having this extra chromosome 13 on a baby's development varies widely and depends on the number of cells that have this extra genetic material. Mosaic trisomy 18 is not inherited (passed down from a family member).
Translocation trisomy 13
In individuals with a translocation form of trisomy 13, part of chromosome 13 becomes attached (translocated) to another chromosome. These individuals have two separate copies of chromosome 13 plus extra material from chromosome 13 attached to another chromosome, resulting in three copies of chromosome 13. This type of trisomy 13 occurs less commonly and can sometimes be passed down from a healthy parent.
Additional Resources