Non-Invasive Prenatal Testing
Non-invasive Prenatal Testing (NIPT) is a screening test available from 9 or 10 weeks gestation until the end of the pregnancy.
NIPT can give you information about the chance of having a baby with trisomy 21 (Down syndrome), trisomy 18 and other chromosome differences in the pregnancy.
NIPT can more accurately tell you the chance to have a baby with trisomy 21 and trisomy 18 in the pregnancy, compared to traditional screening (eFTS or MSS).
If you are expecting one baby and meet one of the listed funding criteria, you can have your NIPT covered by Ontario Health Insurance Plan (OHIP). If you do do not meet any of the criteria, you can choose to pay for the testing yourself.
If you are expecting twins, you are eligible for OHIP-funded NIPT.
How NIPT Works
During a pregnancy, there are small pieces of genetic material (known as DNA) from the placenta that can be found in the bloodstream. The placenta and the baby usually have the same genetic make up.
Non-invasive prenatal testing (NIPT) looks at this placental DNA and can tell if there is a high or a low chance for each of the chromosome differences that are screened. It is important to remember that NIPT is a screening test and will not give a definite answer about any of the chromosome differences.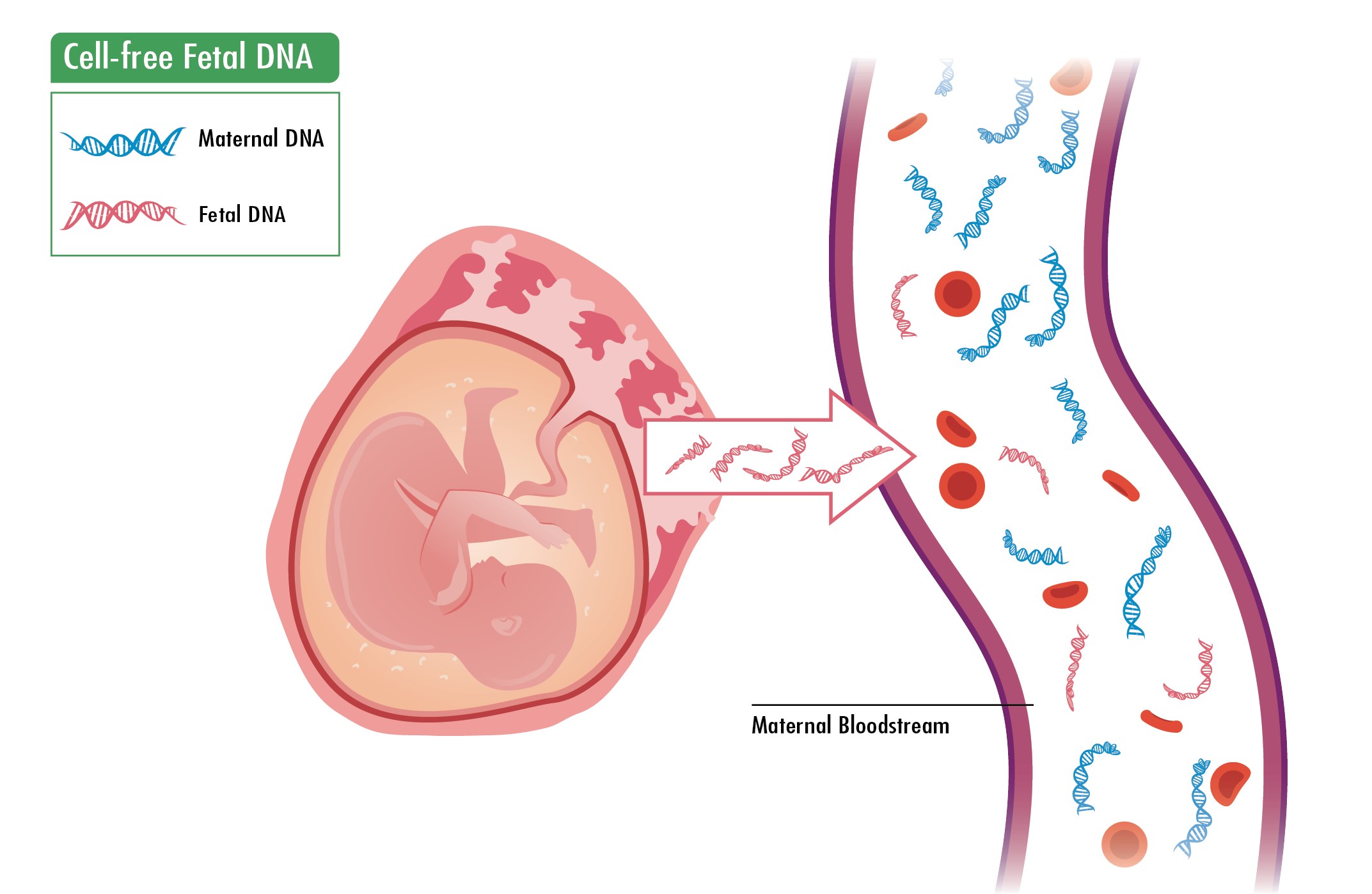 Illustration adapted from Genetic Counseling Aids, 7th Edition, Copyright 2020, permission for use granted by Greenwood Genetic Center
Conditions Screened
NIPT will screen pregnancy for three chromosome differences that can occur at any age, but are seen more frequently with advanced maternal age (or age of egg donor):
Discuss with your health care provider whether you would like to use NIPT to screen your pregnancy for the fetal sex and/or any sex chromosome differences, such as monosomy X (Turner syndrome).
Microdeletion Syndromes
Some of the NIPT labs are able to use this blood work to screen pregnancies for additional genetic conditions, specifically a group of conditions called microdeletion syndromes.
These conditions happen when there are missing pieces of chromosomes (ie. deletions) and vary in severity, ranging from no symptoms to serious health and developmental concerns.
The chance for a baby having a microdeletion is not related to maternal age (or the age of the egg donor).
Microdeletion syndromes are individually rare in the general population and are thus difficult to study. The limited evidence available tells us that NIPT results may not be as accurate for these conditions1.
Current international guidelines do not support the use of NIPT to screen for microdeletion syndromes at this time, but this may change as more studies are done2.
NIPT Performance
NIPT Performance

| Chromosome difference | Detection ratea c | False positive rateb c |
| --- | --- | --- |
| Trisomy 21 (Down syndrome) | more than 99% | 0.1% |
| Trisomy 18 | 95% | less than 0.1% |
| Trisomy 13 | 88% | less than 0.1% |
Notes
aDetection rate = how many pregnancies where the baby really DOES have the chromosome difference will be flagged as high risk by this test?
bFalse positive rate = how many pregnancies will this test flag as high risk but the baby does NOT really have the chromosome difference?
cThe detection rate and false positive rate for the screening tests were obtained from Ontario data (twin pregnancies were not included).
How to Get NIPT
NIPT can generally be ordered by your health care provider, such as family doctor, obstetrician or nurse practitioner. In Ontario, NIPT cannot currently be ordered by midwives. Sometimes, your health care provider may refer you to a genetics centre for further counselling, which may include a discussion about NIPT.
The blood work for OHIP-funded NIPT is done at either a LifeLabs or Dynacare location, depending on which test your provider orders for you.
When to Get NIPT
NIPT can be done at various stages in the pregnancy, as shown in the Prenatal Screening Pathway.
Some pregnant individuals will have NIPT as the first prenatal genetic screen in their pregnancy, and it can be done as early as 9 or 10 weeks gestation depending on the lab. A nuchal translucency (NT) ultrasound in the first trimester can still be performed to provide additional information about the health of the baby.
Other pregnant individuals will start with a traditional screening test (eFTS or MSS) and then may decide to have NIPT if the traditional screening reports a positive (high risk) result, or if there are concerns on one of the ultrasounds.
Private-Pay NIPT
If none of the specific criteria for OHIP-funded NIPT is met, you may choose to pay for private-pay NIPT, meaning that you would pay for this testing yourself, or you may get it covered through your private health insurance. In Ontario, private-pay NIPT is available through the Ontario-based laboratories, as well as through other laboratories based outside of Canada (blood samples and personal health information is sent out of the country where the testing is performed).
Prenatal Screening Ontario is unable to endorse any specific private-pay test or laboratory. If you are interested in pursuing private-pay NIPT, please talk to your health care provider about which test might be best for you.
Here are some questions you or your provider can ask if you are considering having private-pay NIPT:
Does the laboratory have information available on how well the test performs for each of the screened chromosome differences? Has this information been published in a trusted scientific journal where it was reviewed by other experts?
What is the process for ordering NIPT at the laboratory? Can the blood draw be done in your area?
Can the testing be limited to trisomy 21, trisomy 18, trisomy 13 and sex chromosome differences? Canadian and international guidelines do not currently support the use of NIPT to screen for other conditions because the accuracy is less well known.
What is the cost of NIPT?
Is genetic counselling available by the NIPT testing company before and/or after you have NIPT to help you understand the test and results?
If the testing is performed outside of Canada, how does the out-of-country laboratory manage and protect your personal health information?
Benefits of NIPT
Accuracy: NIPT is a more accurate screening test for trisomies 21, 18 and 13 than traditional screening (eFTS and MSS)

Timing: NIPT can be done as early as 9 weeks of pregnancy at some labs. It is important to check the gestational age requirements at your testing lab before proceeding.

Non-invasive: Because NIPT is a simple blood test, it poses no risk to pregnancy.
Limitations of NIPT
Not diagnostic: NIPT is a very good screening test but it cannot give a definite "yes" or "no" answer. Only invasive diagnostic testing (e.g. chorionic villus sampling or amniocentesis) can do that.

Unexpected findings: Some of the DNA in the NIPT blood sample is from the mother (or donor) and this means that the test is also looking at maternal DNA, not just the baby's. In rare cases, NIPT may identify a genetic difference in the maternal DNA. This type of result should be further reviewed with a genetic counsellor who can discuss options for further testing.

Some pregnancies happen after in vitro fertilization (IVF), and the embryos may get Preimplantation Genetic Testing for Aneuploidy (PGT-A) during that process. PGT-A involves screening embryos for chromosome differences, including trisomy 21 and trisomy 18, and it is a highly effective screen although it is not diagnostic. NIPT can be considered for pregnancies that had PGT-A, but only after thorough genetic counselling with regards to benefits and limitations3.
When NIPT is not Available
if there is a "vanishing" twin: This is a pregnancy that started as a multiple pregnancy with subsequent loss of fetal heart activity or loss of the embryo in one of the pregnancy sacs. NIPT cannot be done in this circumstance because there can be residual DNA in the mother's blood from the fetus that miscarried, and this can affect the interpretation of the NIPT results for the ongoing pregnancy.
if there are more than two babies (triplets, quadruplets, etc.)
NIPT Results
NIPT results are typically reported within 7-10 working days and the reports are sent to the health care provider that ordered this testing.
If NIPT is done through LifeLabs or Dyncare, the results are not currently available online for patients to access directly.
NIPT results are reported as either a "high risk" or "low risk" result. In a small percentage of cases, the result is reported as "no call" or "failed". Depending on the reason the NIPT yields a "no call" result, the laboratory may ask for a repeat blood draw.
It is important to know that a low-risk NIPT result does not guarantee a healthy baby.
Important: If you have a low-risk NIPT result, you should still be offered a nuchal translucency (NT) ultrasound from approximately 11 weeks and 2 days to 13 weeks and 3 days gestation.
References
1. Familiari A, Boito S, Rembouskos G, et al. Cell-free DNA analysis of maternal blood in prenatal screening for chromosomal microdeletions and microduplications: A systematic review. Prenatal Diagnosis. 2021;1-8, https://doi.org/10.1002/pd.5928.
2. Audbert F, De Bie I et al. No. 348-Joint SOGC-CCMG Guideline: Update on Prenatal Screening for Fetal Aneuploidy, Fetal Anomalies, and Adverse Pregnancy Outcomes. J Obstet Gynaecol Can. 2017;39(9):805-817, https://doi.org/10.1016/j.jogc.2017.01.032
3. Committee Opinion No 406: prenatal testing after IVF with preimplantation genetic testing for aneuploidy. J Obstet Gynaecol Can 2020, https://doi.org/10.1016/j.jogc.2019.11.069